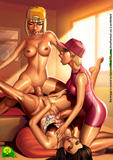 These are pictures featuring recent comics - The Winner's Reward, The Threesome Chillin', The Physical Training... and also my old picture, that I've forgot to post here ;)...
16 January 2017 ( 144 ) comments 0
Just what is Amanda selling here? To make a few extra dollars, Amanda sells cosmetics and lingerie. When she got the name of Miss Marie Graft, a very rich older lady that lives in the penthouse in the hotel, she could not pass up this customer. Amanda soon finds out that this lady has no interest in the product but is very interested in the salesgirl! After a wild sex romp, Marie Graft will be a regular customer from now on but Amanda gets to leave the products at home!...
16 January 2017 ( 195 ) comments 0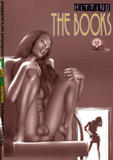 Christine and Priya have to study. Christine is looking thru Priya's Wolford pantyhose collection and Priya knows that means no studying will get done. It an attempt to get some work done Priya makes Christine go to the library. It is too late. Wearing the exquisite designer pantyhose, Christine can only think about one thing........SEX!...
16 January 2017 ( 137 ) comments 0
This is the test comic (manga) for our new artist....
6 January 2017 ( 164 ) comments 0
Amanda and Nicole are out clubbing but leave after getting horny and want some hot sex! They cruise by to see if Priya is home and get an added bonus, Smitha. Amanda and Nicole are always competing with each other so they think up a contest for this little night of sex. The contest will be who can cum more. Putting condoms on Amanda, Nicole and Priyas cock will mean there is lots of cum! The question is, who will win?...
1 January 2017 ( 240 ) comments 0
Christine and her mate have to study. Becky does not live too far from campus so they decide go to Becky's house. What could happen? Surely, even if Christine got horny, nothing could happen. Right?...
1 January 2017 ( 161 ) comments 0
GO TEAM GO! When Aisha was in college, she was not on the cheerleader squad but that does not mean that she did not get into the locker room. Aisha decides to go to the homecoming game and take Priya along with her. There will be more cheerleaders then Aisha can satisfy so Priya will get a chance break in the new girls in the squad. DEEPER! DEEPER! CUM!...
1 January 2017 ( 167 ) comments 0
Christine goes to the wedding of her friend from college, Becky. Both Christine and Becky are horny but there is a problem, the groom might not be happy with his wife getting fucked by a girl with a bigger cock then him! There is a solution though. What if the groom joins is?...
1 January 2017 ( 209 ) comments 0
Most of the members see comics with Amanda and Nicole and say, "Those girls are sex crazy! They really have balls!" Well, from these concept pics, the artist took that literally. Slim, slender, aluring Amanda and Nicole must have thier cocks satisfied and and pussies filled! We all know girls love toys but look at all these! So, do those cute, round, juicy balls make them less of a hot girl?...
1 January 2017 ( 158 ) comments 0
Christmas is the time of year to give. For Amanda and Nicole, that means giving their cocks to hot girls! After shopping and buying two sexy Christmas outfits, Amanda and Nicole are horny and go to visit the sorority. They bring the sorority girls some naughty toys to play with but two hard cocks as well!...
1 January 2017 ( 139 ) comments 0
-