Helen is a desperate fetishist. In the cinema she always sits in the last row and wanks off. The problem is that its impossible to do this naughty thing without attracting attention. Helens dick is kinda huge, even monster sized and when she is on the verge of satisfaction, Helen begins sucking her own dick. The other thing is the fountain of thick warm sperm she unloads a few rows ahead of her in the middle of the film......
16 January 2017 ( 793 ) comments 0
Categories: Magazines / Comics Format: JPG Pics total: 16 Size: 3 mb That was a good game that day! Aisha didnt doubt that their boys would win. She even left a naughty note in one of the cabins of the mens checkroom. What was in that note? There was a promise to the boys that she would let them do with her everything they wanted! In this fantasy these lucky guys will double penetrate Aishas tight ass and full of desire she will suck her own huge dick. The size of her huge cock allows her to...
16 January 2017 ( 706 ) comments 0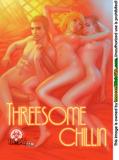 Amanda has been clubbing for a few days, looking for a great buzz. She is starting to get disappointed when she gets a text message from her friend Tom. Tom is a bit of a playboy and Amanda knew this was going to be a hot night! Back, away from the dance floor, Tom is getting it on with some sexy girl he picked up in the club. In walks Amanda and this sweet babe thinks it is going to be a hot lesbian show for Tom. Amanda will show her that big cocks dont only come on large males....
16 January 2017 ( 696 ) comments 0
A pretty blonde futa girl is visiting colleges and staying in the hotel. She is away from home and her friends, bored, lonely and horny. In a twist of fate, in walks the hotel maid and she happens to be a futa girl too! Just luck I guess!...
16 January 2017 ( 654 ) comments 0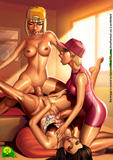 These are pictures featuring recent comics - The Winner's Reward, The Threesome Chillin', The Physical Training... and also my old picture, that I've forgot to post here ;)...
16 January 2017 ( 894 ) comments 0
Just what is Amanda selling here? To make a few extra dollars, Amanda sells cosmetics and lingerie. When she got the name of Miss Marie Graft, a very rich older lady that lives in the penthouse in the hotel, she could not pass up this customer. Amanda soon finds out that this lady has no interest in the product but is very interested in the salesgirl! After a wild sex romp, Marie Graft will be a regular customer from now on but Amanda gets to leave the products at home!...
16 January 2017 ( 774 ) comments 0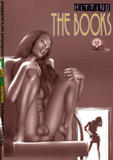 Christine and Priya have to study. Christine is looking thru Priya's Wolford pantyhose collection and Priya knows that means no studying will get done. It an attempt to get some work done Priya makes Christine go to the library. It is too late. Wearing the exquisite designer pantyhose, Christine can only think about one thing........SEX!...
16 January 2017 ( 689 ) comments 0
This is the test comic (manga) for our new artist....
6 January 2017 ( 665 ) comments 0
Amanda and Nicole are out clubbing but leave after getting horny and want some hot sex! They cruise by to see if Priya is home and get an added bonus, Smitha. Amanda and Nicole are always competing with each other so they think up a contest for this little night of sex. The contest will be who can cum more. Putting condoms on Amanda, Nicole and Priyas cock will mean there is lots of cum! The question is, who will win?...
1 January 2017 ( 846 ) comments 0
Christine and her mate have to study. Becky does not live too far from campus so they decide go to Becky's house. What could happen? Surely, even if Christine got horny, nothing could happen. Right?...
1 January 2017 ( 796 ) comments 0
-