Director Joey Silvera's name is nearly synonymous with alluring she-male pornography. After all, it was Joey who brought transsexual sex into the mainstream of adult erotica in his groundbreaking "Rogue Adventures" videos. Now the quirky auteur has another installment of this beloved series — "Rogue Adventures 38." It's packed with a bevy of gorgeous she-creatures in sensuous, versatile hard-core action with boys, girls, even each other — these gender-bending beauties are down for anything!...
2 January 2017 ( 836 ) comments 0
The master of quirky, alluring transsexual porn, Joey Silvera, presents another edition of his beloved she-male series, the one that started it all. Rogue Adventures 36 showcases five extremely sexual and fully functional libertines. These she-males introduce various boys and girls to their specialcombination of feminine beauty and big, hard cock! People of either sex can appreciate these gender-bent babes, so long as they maintain an appetite for the strange and wonderful. The disc includes...
1 January 2017 ( 777 ) comments 0
Director Joey Silvera unleashes more sexy chicks with dicks in the 35th edition of "Rogue Adventures," his acclaimed she-male series. Aly Sinclair is proud of her tits and prouder of her dick. "It's nice. Do you love it? I do," Aly purrs as she-male Hazel Tucker kneels to suck it and all-male Christian gives Hazel a second cock to suck. Brassy blonde she-male Jasmine Jewels dominates Gabriel D'allesandro, calling him, "Bitch Boy," and dangling her cock in his face, but slapping him when he...
30 December 2016 ( 759 ) comments 0
Transsexual smut auteur extraordinaire Joey Silvera has concocted a fresh collection of sultry T-girls in diverse, heated scenarios....
18 November 2016 ( 1015 ) comments 0
Sassy trans-babe Casey Kisses and male admirer Gabriel enjoy a mutual butt fuck with filthy ass-to-mouth cocksucking....
10 November 2016 ( 770 ) comments 0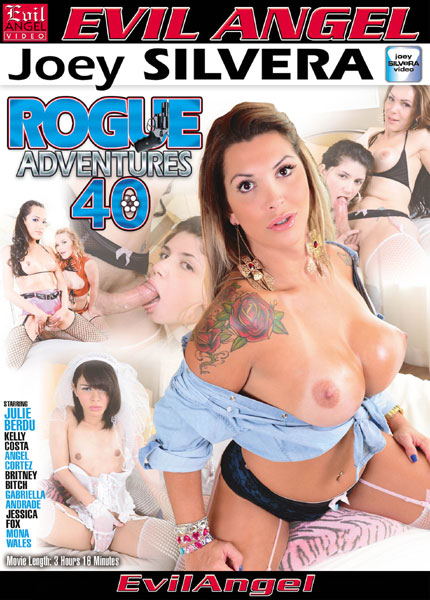 The master of she-male porn, veteran director Joey Silvera, reaches a milestone with "Rogue Adventures 40," a five-scene showcase of transsexual...
9 September 2016 ( 822 ) comments 0
Fearless sexual pioneer Joey Silvera presents another wild excursion into the mysterious and exciting world of amazingly feminine she-males....
25 August 2016 ( 779 ) comments 0
Fan favorite and she-male goddess Vanity is just one of the eight beautiful transsexuals in Joey Silvera's latest freeballing adventure!...
24 August 2016 ( 783 ) comments 0
Everyone's favorite special girl returns to show Joey how much she loves to take it in the ass!...
26 February 2016 ( 770 ) comments 0
Joey Silvera's transsexual tales continue to blow away the limp competition....
26 February 2016 ( 826 ) comments 0